Here at Purple Taco Fly Supply, we want you to catch great fish. To help you do that, we've teamed up with the Tangled Tackle Fishing Team. They'll teach you how to tie your own flies, show you great recipes to pair with your flies, and more.
Making your own flies is cheaper than buying pre-made flies, gives you more customization options, and with our banded mylar, it's easier than ever.
02-17-2018
Our latest video is up showing how to finish off you custom meat rigs.  Enjoy and be safe!
_____________________________________
02-05-2018
Perch!  Staring to hear some good reports of perch being caught on Portage Lake here in Manistee County.  Reports are still scattered, but it seems the south shore near Camp Tosebo seems to be the most consistent.  Depth is also a bit sporadic but it seems the best area is consistent with lining yourself up with the channel to the west.  Wigglers, wax worms and minnows on Hali jigs and tear drops are all working  Ciscoes are also back at it in the first hole and are seeming to be caught on a regular basis.  Fish those guys aggressively as it seems an fast raise with a soft settle seems to work well.
Salmon season is right around the corner so be ready with your gear.  Get those flies tied up now and be ready.
As always have fun on the water, and be safe.
_________________________________________________
02-01-2018
Not to much to report unfortunately for the local fisheries.  Perch have been hit and miss on Portage Lake.  There is a good school of them moving around Andy's Point, but you have to be in the right place at the right time.  Lately I've heard the east side of the point has been better in shallower water.  Hali's tipped with wigglers and tear drops with wax worms have been best.
I've heard of pike being taken on the south end of Manistee Lake, but details other than that have been sketchy.
One quick blurb regarding a question that I get asked the most on fly tying.  Probably the most often asked question I get via email is how much material to use with each fly.  If you've watched our instructional video on YouTube you know that there is a primary color followed by secondary and so on.  For most of our flies our primary color is approximately three inches in length with each following color around one and a half to two inches in length.  There are some exceptions to that with one example being the white glow.  I use that more sparingly as it seems to "take over" a fly pretty easily.  But, like anything else, make your flies to suit you.  There are no set rules, and I guarantee that the fish aren't going to complain.  So have fun, and experiment.  Catching fish on something you created, especially with your kids or other loved ones, certainly makes it that much more special.
As always send me any questions you might have to ChrisTangledTackle@gmail.com
Good luck out there and be safe.
—————————————————————————————————
01/22/2018
So, is it salmon season yet?  No, but there is some good fishing around none the less.  I've heard good reports of steelhead on the Big Manistee lately, and the warm weather of late has had the parking lots full at Highbridge and White Fence.  If you're looking to get on the river now is the time.  If you want to get out there, but don't have the gear check out some local charter guys for an excellent experience.  Riverside Charters, Pier Pressure Charters, Steelhead Hunter Charters (just to name a few) are all top notch and will put you on fish.
Perch fishing has been hit and miss here on Portage Lake, but I've heard good reports on Pentwater Lake.  Oddly Whitefish and Ciscoe have been plentiful here on Portage Lake this year.  People have been having excellent luck in the "first hole" for those fish, with most coming on Hali jigs tipped with wax worms being fished aggressively over that area.  If you're not familiar with the area, "first hole" is a 50 foot deep small flat just south east of the point.  Look for the shanties and you've found it.  Make sure to stay away from the channel as the warm weather and the Lake Michigan waves have made the ice in that are pretty darn sketchy.
Stay tuned for some new fly recipes to be revealed both here and on YouTube in the near future.  Be safe out there, and make sure to take the kids fishing.
—————————————————————————————-
Happy New Year from all of us at the Tangled Tackle fishing team! We have been asked to jump in on this blog from time to time to give everyone some updates on what's up and coming, and to answer some questions. Of course we couldn't resist the opportunity to talk some fishing so we jumped on the chance to contribute.
Looking at the thermometer and seeing 15 degrees it's hard to imagine that fishing season could be as little as sixty days away.  I know I've been on a boat on Lake Michigan in the middle of March before, and I'm sure many of you have been also.  So now is the time to start gearing up.  If you're like me you've probably been tinkering around on fishing gear throughout the off-season, but if you haven't don't worry.  There is still plenty of time until you hit the water this spring.
Some of the things that we've been busy with over the last few months are coming up with some new fly recipes for Purple Taco.  Jim and I have both committed to creating five recipes apiece before the snow melts and I know he and I are working to come up with some of the best combinations that we can.  So stay tuned to our YouTube channel, Tangled Tackle Fishing Team, for those new recipes coming soon.  And if you haven't checked it out before now go ahead and take a look.  We can help you out with everything from fly tying basics to making your own custom rigs for the Great Lakes and everywhere else.
Also here in the near future we'll be covering meat rigs, additional fly tricks and by popular request-peanut fly's.  And not to let the big cat out of the bag there may be a few giveaway's in the near future to keep everyone knee deep in their favorite gear.
So stay tuned.  2018 is going to be a great year on the water!  As always you can ask me any questions at Christangledtackle@gmail.com.
Tight lines, and be safe,
Chris
Happy New Year and New Videos Coming Soon!
It's all about the width of the fringe.  The width of the strands is about half of the standard material.
One of the most frequently asked questions we get is "What is the difference between bandaboo and regular material?".  Both come in one yard packages on bands and can be used together or separately.  Standard cut is what 90% of the commercial flies on the Great Lakes are made out of, and  bandaboo has been used for making hair type flies.  People frequently mix both types together.
Bandaboo is similar to material found in hanks at the store, but is on a band.  This eliminates the need to count threads, and your flies will be more consistent and neater.
As always, thanks for all of your comments and feedback, and let us know if there are any topics you would like to see covered in this column in the future.
Regular Cut vs. Bandaboo
Edited 9/23/17 – Added the rest of the pictures
Here are the recipes and pictures from the video.  There is also a spreadsheet of the colors needed for all of the flies.
Click on this link to download the PDF file of recipes:  TT Fly Recipes
Click on this link to download the Excel spreadsheet for a matrix of colors needed to make all of the flies:  TT Fly Recipe Matrix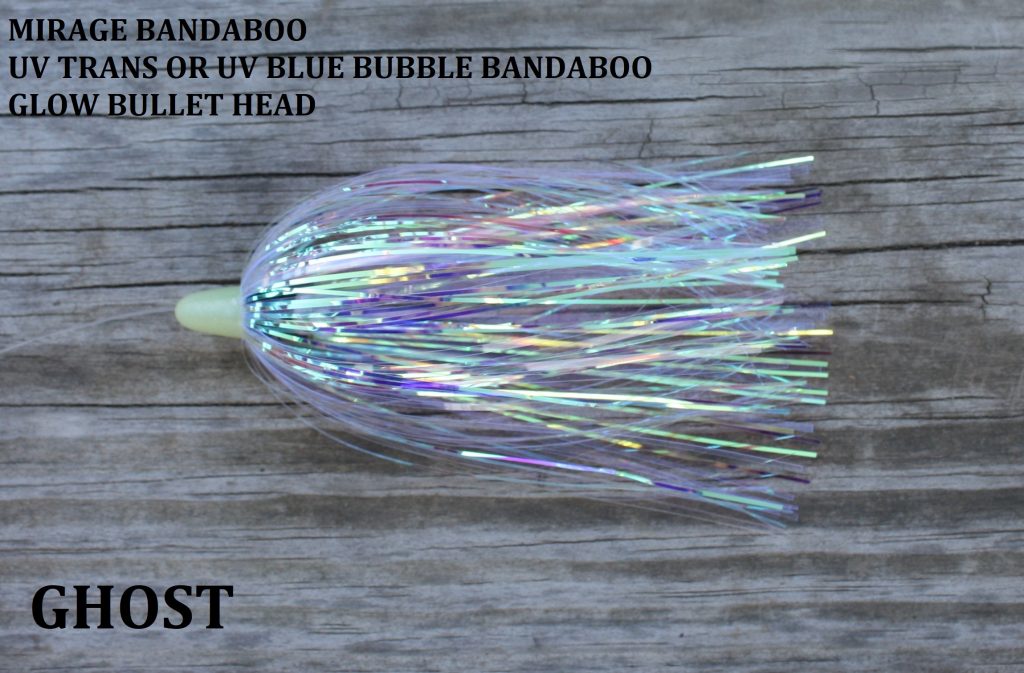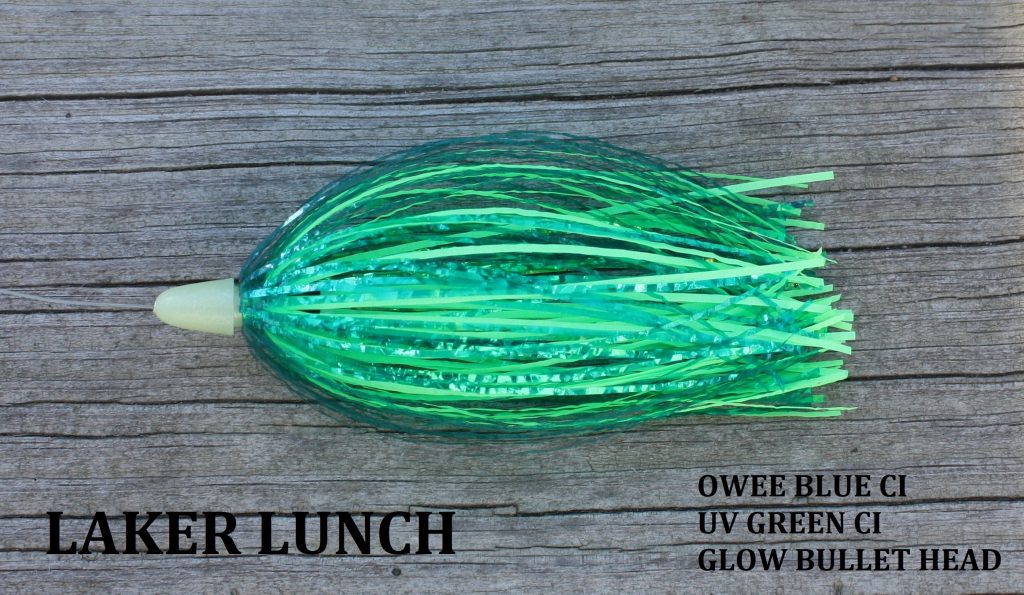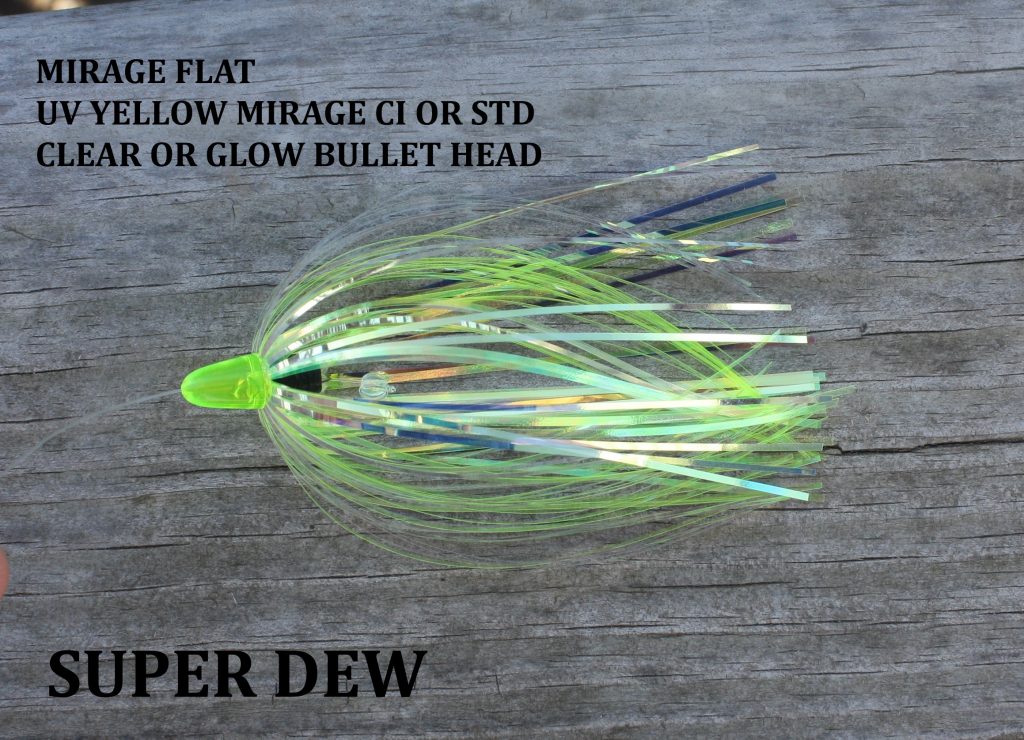 Recipes From the Video
Salmon Trollling Flys with Recipes
How To Tie Your Own Salmon Trolling Flies