Upload your own photo for a chance to be featured on the site!
Submit
The Newest Board Member at Taco
Introducing Rebel.  He is "helping" update the website and sleeping on the job.
Todd Frank
GLOW GOBLIN FLY OFF OF Dream weaver spindoctor. King & coho caught out of Port of MUSKEGON IN LAKE MICHIGAN. Todd Fra
Todd Frank / Blue Line Guide service
My Wife kimberly with a decent Manistee river smallmouth, one of several caught on a home made in line spinner with a bucktail tied in Bronze Bandaboo. Todd Frank
Todd Frank / Blue Line Guide service
My wife Kimberly , Caught this Steelhead on a river pickle fly out of Pentwater mi.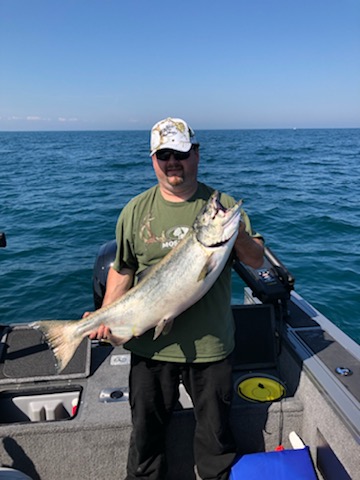 william samuels
King out of Michigan city IN on a bloody nose fly
Jim Mitteer
26 lb. King. 135 FOW Lake Michigan. Tangled Tackle/Purple Taco Meat Rig. Dreamweaver Kevins Mistress Custom Spin Doctor and Mountain Dew Meat Head.
Kyleigh Bradley
Nice king caught on Lake Ontario. She ties her own flies with purple taco Mylar. And this one came on a special fly. 🤣
Bob Miller
Nice king caught with purple taco Mylar. Great produce and service ! Can't ask for anymore.
Nice Wisconsin Catch
Submitted by Captain Michial Marsh.  Caught by a customer with a Marsh Trolling Flies Scent Head Green Nitro Frog.
Jim Mitteer
This is the fly I used for the teasers on my meat rig, cut off to 2 and 1/2 inches. The recipe is on the photo.
Jim Mitteer
18.1 lb. King on a Tangled Tackle /Purple Taco Meat Rig, Chrome Blue Mackerel Glow Spin Doctor, Dreamweaver Meathead. 120 FOW Lake Michigan.
Jim with a nice fish caught on a Blue Maui Fly
Jim from the Tangled Tackle Team with a fish caught out of Manistee, MI on a Blue Maui fly.  Late May, 2018
Tangled Tackle Team
Robert
Robert caught this great fish using Taco material on Lake Ontario.  Nice catch, Robert!
Learning to Tie Flies
Krista watched the video and tied flies along with it.  This is her third or fourth one.
Lake County Bass
LeRoy caught this bass on a spinner he made with Mirage.  The fringe is trimmed to about an inch long.
Lake County Bluegill
LeRoy caught this fish in Lake County, MI on a lure he made with Mirage and Owee Green.  The fringe is trimmed to about an inch long.